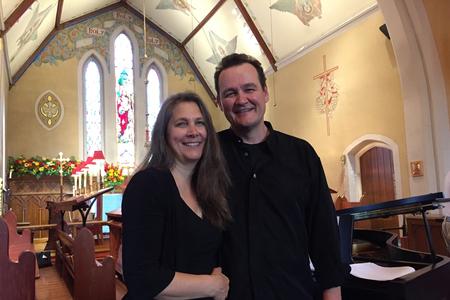 The Soul of Vienna
When
Occurs on Monday August 9 2021
Approximate running time: 2 hours
Venue
Event Notes
×
The Soul of Vienna
Happy Hour | 5:00 PM James Mason, oboe; James Campbell, clarinet; Kathleen McLean, bassoon; Ken MacDonald, French horn; Mark Fewer, violin; Bryan Cheng, cello; Joel Quarington, double bass; Silvie Cheng, piano; Rolston String Quartet; Luri Lee, violin; Jason Issokson, violin; Hezekiah Leung, viola; Yoshika Masuda, cello
Gather live on Zoom to chat with your friends and Festival Artists, enjoy the music of Haydn, Mozart, and Beethoven and learn how to make a Schnitzel the Viennese way as Festival Friends Toni and Gisela Reinelt demonstrate how to make a schnitzel direct from their home in Vienna.
Concert | 7:30 PM Russell Braun, baritone; Carolyn Maule, piano; Alexander Tselyakov, piano; Joel Quarrington, double bass; Rolston String Quartet
Schubert: Selected songs Schubert: Piano Quintet in A Major, D. 667 (The Trout)
Night Cap | To follow
Suzanne Schulman, flute; James Campbell, clarinet; Stéphane Lemelin, piano; Alexander Tselyakov, piano; Moshe Hammer, violin; Penderecki String Quartet: Jerzy Kaplanek, violin; Jeremy Bell, violin; Christine Vlajk, viola; Katie Schlaikjer, cello
Kreisler: Liebesleid & Schön Rosmarin from 3 Old Viennese Dances Kreisler: Caprice Viennois, Op. 2 Strauss: The Emperor Waltz, Op. 437
*Repertoire subject to change without notice
This is an individual ticket for one event. Buy the August Concert Pass to see all 6 events or buy the Full Season Pass to see all 10 events.. Tickets and passes can also be purchased at the Festival office or by calling 1-866-364-0061 or 705-746-2410.
There are no physical tickets for this event. Mailing fee is NOT required at checkout. Emailed reminders are sent out on the day of the event which contain instructions on how to view the events.