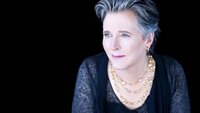 Janina Fialkowska Masterclass
When
Occurs on Wednesday July 20 2022
Approximate running time: 1 hour and 15 minutes
Venue
Event Notes
×
Be a fly on the wall as Janina and 2021 Chopin Competition First Place Winner Bruce Liu work together on this technically challenging and beautiful Chopin composition.
Chopin Concerto No. 2 in F minor
Janina Fialkowskas' appearance is made possible through the generous support of Ken Stephen.
Please be mindful of distance between yourself and others when choosing your seats.